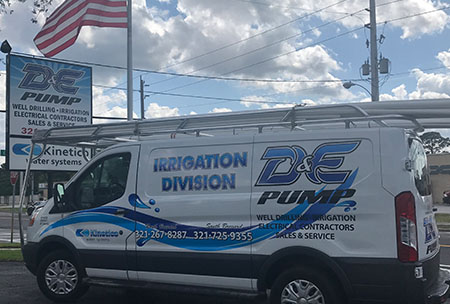 Sprinkler Systems, Irrigation Systems
Reduce Your Water Bill!

Anyone can have a well water pump irrigation system
Designing and Installing a sprinkler system correctly is an important task. A well designed and properly installed irrigation system is crucial for a healthy lawn. At D&E we can provide you with a professionally designed and quality sprinkler installation that efficiently provides your landscape with the exact amount of water needed.
One of the most common requested service we receive is to replace broken sprinkler heads. There are many reasons why heads need to be replaced–they're driven over by lawn mowers,weed eaters, or they can become clogged. It's very important to replace defective heads as soon as possible.
We Fix and Install Sprinkler Systems!
New sprinkler system installation
Repair broken or clogged sprinkler heads
Install or adjust sprinkler timers
Repair or replace sprinkler pumps
Located and fix sprinkler system leaks
Install, repair, or replace rain sensors
Repair sprinkler valves or install new zones
Install PVC water wells