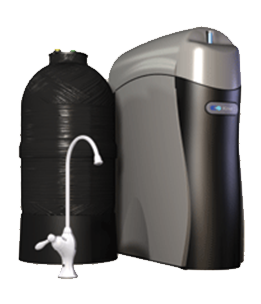 Clean, crystal clear, worry-free drinking water
The simple fact is we can no longer take the quality of our drinking water for granted. Private well water can be affected by any number of contaminating factors, while even municipally treated water that meets all federal guidelines has been found to contain bacteria, viruses and protozoa, along with a host of other contaminants.
And while funny tastes and odor, or water that appears cloudy, can be signs of impurities, many harmful contaminants can only be detected through proper testing.
Only one drinking water system is so advanced that it can eliminate nearly everything from your home's drinking water that isn't water: 
The Kinetico K5 Drinking Water Station
Certified to remove more contaminants than any other system.
It's customizable to your home's specific filtration needs.
It's expandable as your water filtration needs change over time.
What Makes The Kinetico K5 Drinking Water Station Different?
Cartridge Options. Eight different options to meet your removal needs now and in the future. Includes the Purefecta® Virus/Bacteria Guard for microbiologically pure water. The Mineral Plus Cartridge improves the taste and health benefits of water by adding magnesium and calcium back into the treated water. Cartridges also available for arsenic, chloramines, chlorine/sediment, sediment, perchlorate and VOC reduction. Final polish with carbon post filter.
QuickFlo Technology. Delivers a strong flow of water from the faucet. Allows system to produce more water in less time.
High Daily Production. Can produce more than 40 gallons per day.
Quick Disconnect Sanitary Filter Cartridges. Make changing filters easy.
Patented, Exclusive EverClean® Rinse. Consistently-high water quality. Increases membrane life - lowers maintenance cost.
PureMometer® Filter Life Indicator. Shows filter capacity.
Patented, Tamper-Proof MACguard® Filter. No more wondering when to change cartridges. Assures high quality water and peace of mind.
Automatic System Shutdown. Conserves water - doesn't run water continuously to drain.
Exclusive Designer Faucet. Lead-free, Stylish design available in a variety of finishes.
Non-Electric, Totally Automatic. No electrical problems.
Efficient Operation. Conserves water, lower operating costs.
Outstanding Warranty. Dependability, peace of mind.